The economy expands and contracts in response to thousands of independent variables – one such variable, the COVID-19 coronavirus, is just the latest in a long list of examples. Still, periods of economic and social instability can be a scary time. In the interest of recalling lessons from past periods of uncertainty and helping brands answer how to best react during these periods, we want to share with you valuable lessons and insights we learned from during the Great Recession.
For starters, it's important to remember that not every brand is the same. For example, brands that serve consumer needs, rather than wants, generally have an easier time withstanding the days of uncertainty. It's vital to understand and recognize that your customers' needs change during a downturn, and it's incumbent on the brand to respond by fulfilling them in unique ways. When executed well, it's possible to actually gain market share, increase profit margins, and be better positioned for growth when the upswing begins. Still, almost every business will feel the effects of an economic downturn in some ways, and these are some tactics you can use to protect yourself:
Keep your existing customers. One mistake we often see is where brands cut too much of their marketing expenses and, as such, are unable to communicate to their customer base effectively, compounding their issues. Now is the time to remind your customers why they chose you in the first place. If it's because you're the best balance of affordability and function, remember to communicate to your customers that affordability is even more important during a downturn. If you're not the cheapest, but you offer a premier product or superior customer service, remind your customers of the exceptional value you offer.
Double-down on your best customers. Any customer lifetime value analysis will tell you: your best customers are very costly to replace. A slowdown in consumer spending alone is bad enough for any brand, but the loss of your best customers (your biggest profit center) will be nothing short of catastrophic. Stay engaged with your best customers by calling (yes, that's not a dead or ineffective channel), emailing, and retargeting them frequently. Intentionally personalize your communications to shower them with an appreciation for their loyalty and continued patronage through grateful messaging and offers.
Understand the right marketing drivers and those channels with the highest contribution per customer. As more companies look at performance metrics with a ROAS (Return on Ad Spend) lens instead of the more critical metric – Contribution Per Order (CPO), you may not be spending marketing dollars that drive more significant profits and growth. While ROAS is an efficient measuring metric, it cannot assign health to a channel, thereby making it a useless tool. ROAS can't tell you how much margin you are making for every order received. As an example, a ROAS of 6 is more efficient than a ROAS of 5, but that doesn't mean you made more money (or any money). A ROAS of 6 on $10 did not make you more money than a ROAS of 5 on $10,000,000. The volume grew top-line demand, but it did not increase profits. Contribution Per Order (CPO) brings in the magnitude of the campaign segment targeted (marketing cost and cost of goods). It's critical, more than ever, to track how each order by each channel drives contribution to your top-line demand and bottom-line. This metric will help with your payroll and keep the lights on.
Keep an acquisition mindset. After all, customer acquisition is the lifeblood of any business, including during a downturn. You might be surprised to realize that competition is often measurably less intense, and prospects are more likely to respond to unique value offered by an alternative to the brands they usually buy. Whether it's through Google Shopping campaigns, targeted social campaigns, catalog or postal retargeting, offset risk by targeting smaller, niche audiences during this period. Once converted, use the foundation to grow your crucial customer file with post-purchase campaigns that are highly customized (point #1 and #2 above).
Reassess brand position. Understanding how your competition's positioning will help you identify opportunities to differentiate your brand in the minds of your customers, particularly concerning their changing needs in the face of a downturn. The key is to find ways to address the unique needs of those who are suffering by offering distinct value they can leverage to pull themselves through the hard times. Identify the things your customers are most likely to cut back on during a recession and present more valuable alternatives. The areas where consumers are likely to cut aren't always the most obvious. During the Great Recession, counterintuitive luxuries like wellness and personalization thrived. By repositioning luxury offerings as an investment in personal comforts in the face of mounting budget sacrifices, smart brands were able to counter social pressures to cut nonessential indulgences.
Revamp your product line or marketing campaign. Whether B2C or B2B, consumers and decision-makers spend differently in a recession. Note that "value" is not the same as "low price." It's tempting to slash prices to drive more demand, but that's not a sustainable practice and, in truth, only leads to long-term degradation of the business. Someone else will always be willing to lose more money by making deeper price cuts. Make a drastic price cut the very last tactic you would ever consider. And even then, think again as there's no walking that back. Instead, prioritize your marketing message to highlight your distinctive value or personal investment in that product. Tell a story that compels. Stand out.
Not a one size fits all strategy works. In a fantastic Harvard Business Review article, it describes the ability to identify specific customer profiles/behaviors and tactics around the individualized marketing strategies based on those profiles.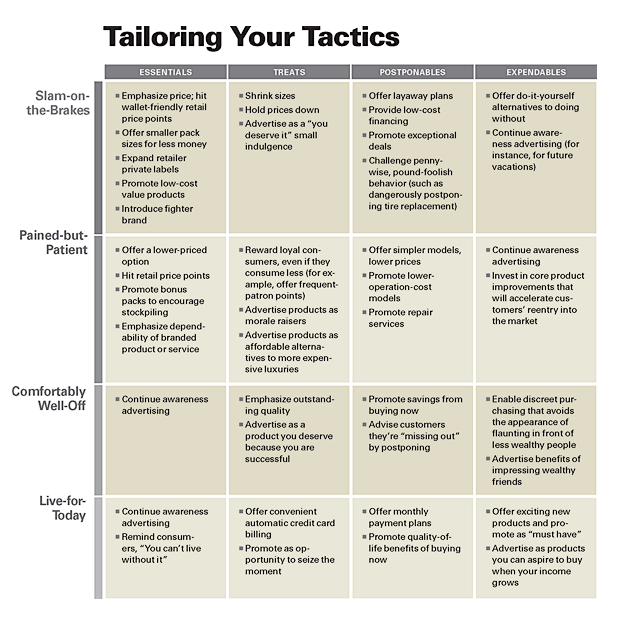 Strengthening your business doesn't just involve financial management. It also includes strategies to retain and possibly broaden your customer base. It also means understanding the right drivers based on highest customer contribution. And close to home, keeping morale high amongst your employees by working together, creatively and cohesively.
If you need help to strategize and understand marketing data for better marketing opportunities, please feel free to reach out to me at mhouston@cohereone.com. We'd love to chat with you and help you with any of your marketing needs.