By most ROI analysis, email is one of the top ROI channels, but contributing to this high ROI figure is the very low cost of sending an email on a per customer basis. And that is part of the problem – ease and cost. I challenge you to think about this…. you are probably over-emailing your email file. Over-mailing can destroy the lifetime value of your subscriber file, potentially generating a short-term performance lift at the expense of ending relationships with customers who complain, unsubscribe, or worse, simply disengage with your brand.
Over the past year, CohereOne conducted an analysis on 20 clients to better understand the year-over-year changes to their email programs – essentially creating our own benchmark report. In this analysis, the benchmark data indicates a +21% increase in sends as seen below.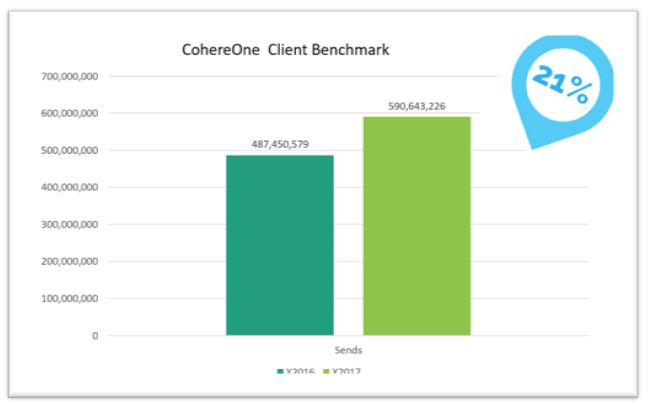 Unfortunately, the increase in volume of sends had an inverse effect on four key metrics in the YOY comparisons, with the unique clickthrough rates (UCTR) taking an especially hard hit.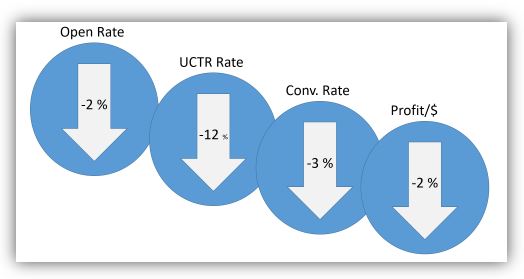 While there isn't any "magic number" that can help marketers to strike a balance between sending innumerable emails and sending less emails, there are changes you can make to benefit the program. It's important to remember that email marketing has evolved and continues to evolve. Today, it is more about the marriage of AI-driven predictive content and maximizing email marketing automation where marketers create automated email workflows, automated drip nurture campaigns, advanced behavioral triggers, and re-engagement campaigns. It is not about what number of emails can give you the best results, it is more dependent on how targeted and relevant your emails are to maximize a subscriber's purchase intent.
All About the Data
As direct marketers know, data is our lifeline! And this is where tried and true direct marketing programs can be invaluable for any email marketing program. In our world, Segmentation and Relevancy increases engagement metrics, decreases fatigue, and thereby improves ROI.
Recency, frequency and monetary (RFM) values are still the classical way to understand customer behavior and is the most frequently adopted segmentation techniques in direct marketing.
Among the three RFM measurements, recency is often regarded as the most important one. Frequency and monetary could be considered as functions of each other by adding a secondary and tertiary dimension to rank customer behavior.
The simple hypothesis of this approach is that the more recent and frequent someone's engagement, the higher the likelihood they will buy again from your business.
The first and most important segmentation change we recommend is to separate buyers from subscribers in your email file. Buyers will outperform non-buyers from anywhere between 6x to 10x depending on the vertical. As such, your email cadence and promotional strategy should be dramatically different for these two groups. Buyers buy, subscribers surf!
As your file grows, there will be other selection variables: how frequently a customer purchases, merchandise categories, their AOV, or whether they are a B2C or B2B customer. Both buyers and subscribers can also be classified by email activity behavior and other criteria that may be important for your marketing efforts.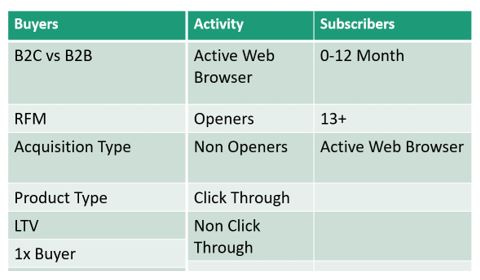 And if that seems a little overwhelming with a small staff, then consider 3rd party providers like NaviStone who can score your housefile with real time browse behavior with modeled scores applied to your data file. Retailers can then use the data to support an email program, pushing audiences through traditional digital channels, and of course lucratively retargeting through direct mail.
The more you can segment, the better you can target specific marketing campaigns around the segments that will perform well to more content (or more emails) and those who might only respond to promotional emails (one-time buyers or non-buyers) with less annual sends. Advanced segmentation is routine in direct mail and it should be in the email channel as well. At a minimum, you can make a dramatic difference by simply creating a buyer vs non-buyer segment group.
Deliver Targeted and Relevant Content in Each Email Campaign!
In the various email reviews that I perform, I am disappointed at the lack of variety, low volume (or non-existence) of automated email workflows, automated drip campaigns, autoresponders, behavioral triggers, and re-engagement campaigns. While the initial pain of setting this up may be a barrier, once they are set, they are easy to update when you change seasons. Here are my top triggered behavioral and transactional emails that generate the most revenue (and that you should begin immediately):
Advanced abandon cart:  While many retailers have a general abandon cart email program through their ESP, I highly recommend that you go a step further. One misconception is that Email Service Providers (ESPs) are all the same when it comes to capturing reach. Typically, your ESP will capture between 25%-40% of your abandon cart shopper's email address and send an automated email. However, there are many 3rd party vendors who can capture significantly more "unknown" shoppers through a propriety pixel placed on your website. Normally we see a capture rate of 55%, adding significant incremental value to the program. With one client, this additional capture and sends generated over $400,000 in incremental top line sales that would have not been captured without the 3rd party tag. Adding another 1 or 2 points to your top line will make everyone in your organization very happy!

Welcome Series: Yes, I know you probably have a welcome series, but is it really a welcome series with a well thought out customer journey map?  Below is a perfect example of the workflow that should be used to maximize the revenue but more importantly, it's the first chance to set the brand tone, effectively onboard, and create a longer term meaningful relationship.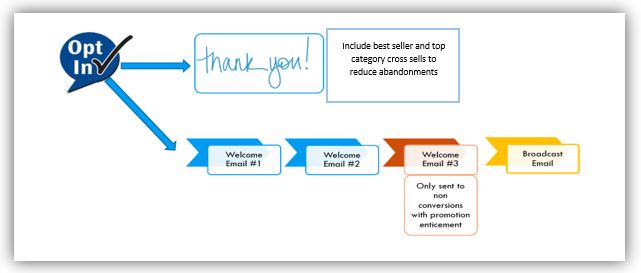 The Welcome email launches the process immediately after opt-in. A good welcome follow-up program is to give each message a unique and logical purpose, one that draws your prospect or customer ever deeper into your company and includes various content elements, including video. According to a recent Experian email report, Welcome Emails have an open rate 4 times higher and a click rate 5 times higher than most other emails you'll ever send. Don't waste it.
Transactional Emails:  The upsell and cross sell tactics are something every ecommerce business should incorporate into their transactional or confirmation emails. There is no wrong time to turn a first-time customer into a returning one, or a visitor into a customer. Review your confirmation emails and map how you can make this a stronger revenue generating email. Samples below.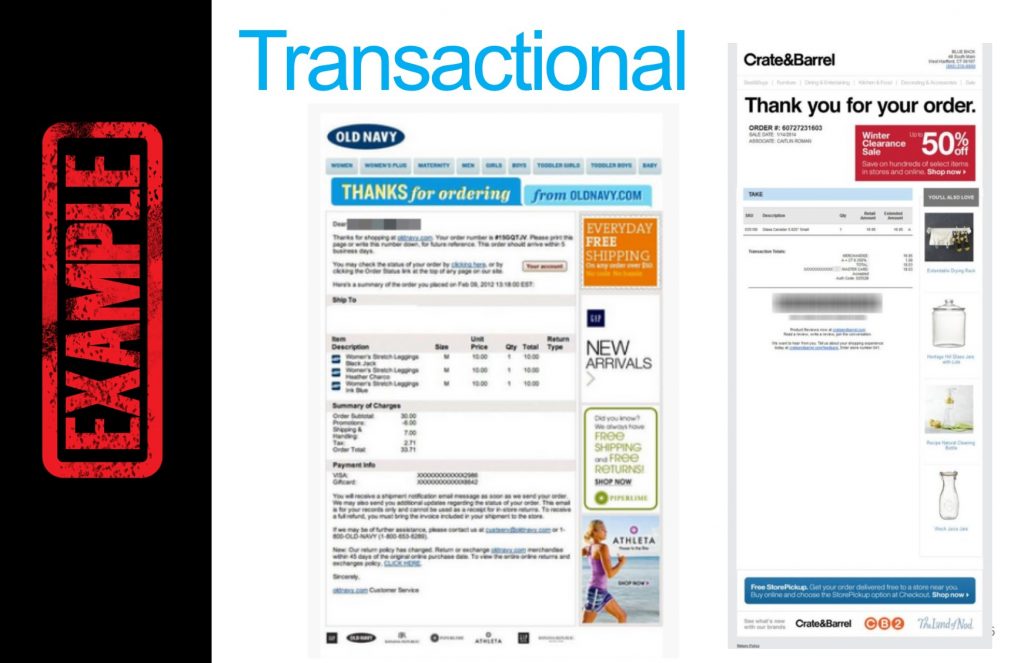 One Time Buyer Nurture Series:  Do you know that nearly 70% of your buyers will never buy from you again?  As the 1x buyer numbers continue to rise, a well thought out and timed Single Buyer series will help drive down those rising numbers. Re-engage your audience relatively early (before 30 days) from last purchase and then time your remails to non-purchases at both 60 and 90-day intervals. If it's brand appropriate, consider utilizing escalating your promotional offer strategy further at the 90-day period. Once lapsed customers age beyond 4-6 months of their first purchase date, they are likely lost forever. So, it's critical to have both digital and print programs built around re-activation. Here are a few good examples: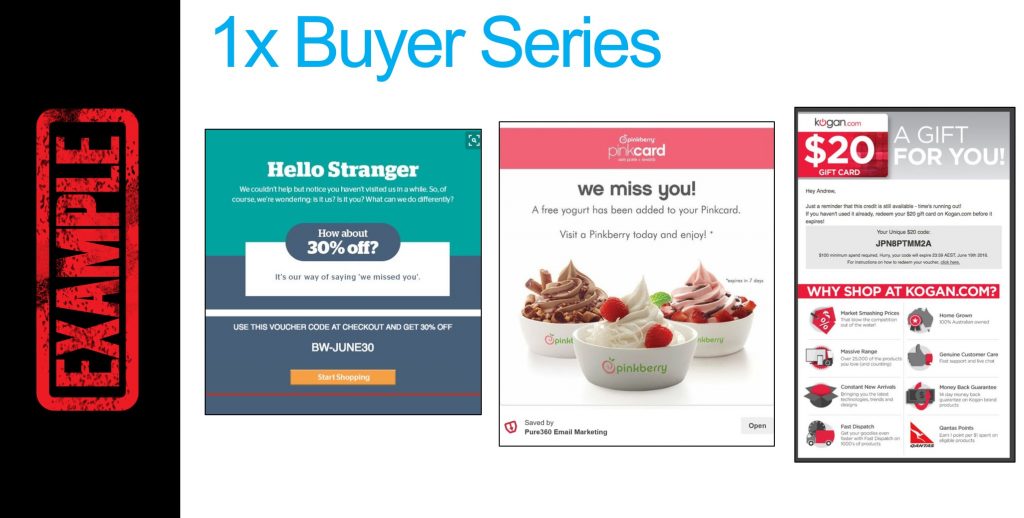 Simply create a data extract from your marketing database or ask your service bureau a list of these customers. Upload the file into your ESP to create a monthly 1x series. It's really that easy.
VIP Program:  Don't forget about your best customers! Every company has its core group of returning customers, and you should do everything in your power to keep these customers happy and loyal.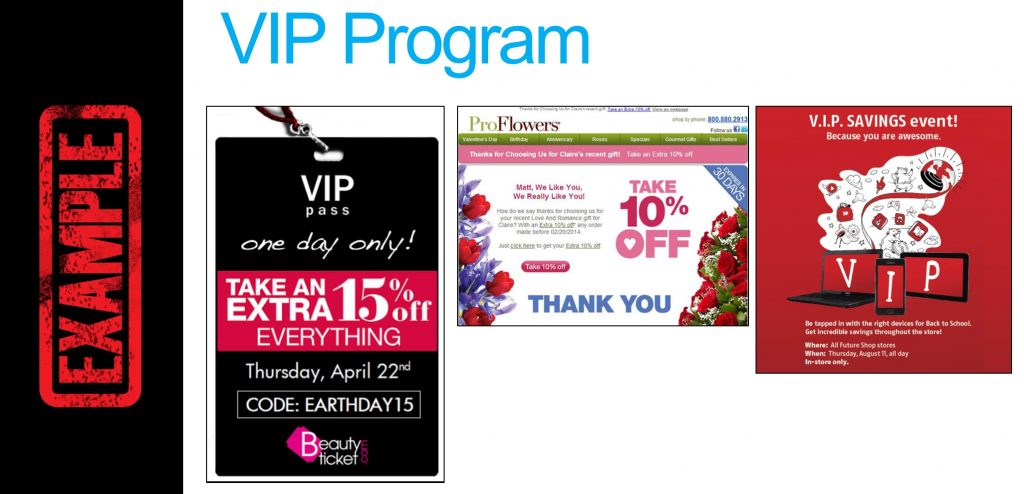 Birthday Program: According to Experian, birthday emails are one of the most effective emails you can send. They have 481% higher transaction rate, 342% higher revenue per email and 79% higher CTR. If you are not collecting birthdates, we can help facilitate appending that information through a 3rd party vendor.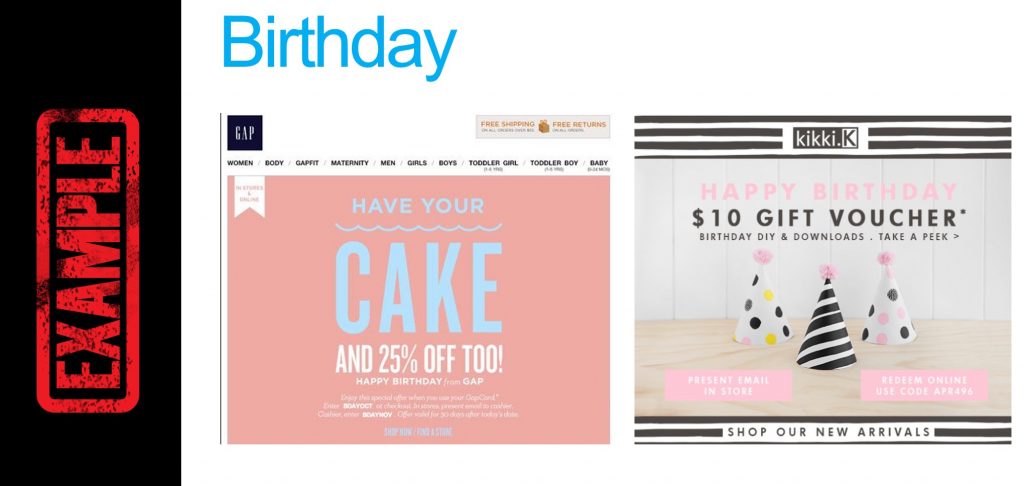 Anniversary Program: Using only the first order date, you can automate an anniversary message to customers one year from the date of their first online purchase. This message should explain the anniversary, thank the customer and invite them to come back with a special offer.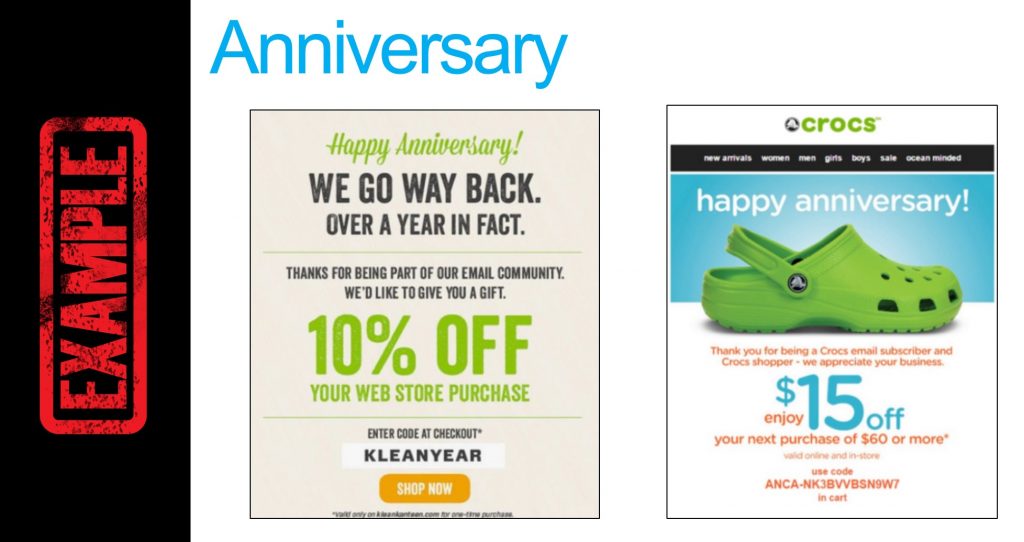 There are also many other triggered or event-based emails that you can do. But remember, the average person receiving approximately 75 emails each day, retailers have a lot of competition in the inbox, so the customer conversation must evolve. It's no longer enough to send emails for the sole purpose of keeping in touch. While it is important to always keep the bigger organization in focus, we must have a laser focus at the individual customer level. It will be the key foundation for other fundamental successes across your other marketing platforms too.  Your customers will appreciate it!
If you have any questions about email best practices, please reach out to me at mhouston@cohereone.com